Want to know how to communicate better so you can get your message across easier?
Most of us assume we're great communicators and that it's others who don't understand us.
Is that really the case?
How do we know it's "them" and not us?
Well, it's easier to blame others for not understanding us instead of working on our communication skills so we're better understood.
But there's no need to blame everyone else. There is something we can do that can empower us to communicate in ways that we're better understood.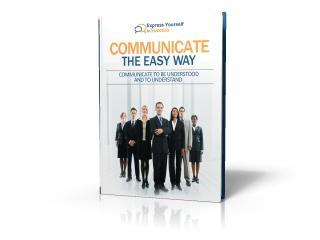 Introducing the Express Yourself to Success eGuide to Communicate the Easy Way.
Explore your verbal communication options to deliver your message in the best way for others to understand. Be able to say what you want by knowing how to say it.
What will this eGuide teach you?
This easy-to-read eGuide takes you through the communications process by outlining the steps to effective communication. It'll show you the best ways to construct your message and deliver it by
uncovering your communications style
revealing useful words and approaches to communicate your message
showing you how to tailor your words to match your listener's communication style
describing some facial and body gestures that are useful for good communication
being aware of the body language of the listener to know if they're understanding your message
giving tips on how to be a good listener and why that's important
outlining some external factors that can impact how your message is received
There's a lot of good information in this eGuide that will help you become a fluent communicator. Just follow the techniques and recommendations and you'll be on your way to communicating better and easier.
Take a look at the first few pages of the Communicate the Easy Way by clicking here.
Check out the benefits of being an effective communicator
understand how you communicate and how others may perceive you
listeners will better understand what you say and what you want
avoid misunderstandings and incorrect interpretations of what you're trying to say
feel confident that you can say what you want without fear of a negative response
look like a leader by effectively and clearly communicating your vision, thoughts and ideas
enjoy your relationships more because you can be open and honest
no more worries about wanting to say something but don't know how
Communicate like a pro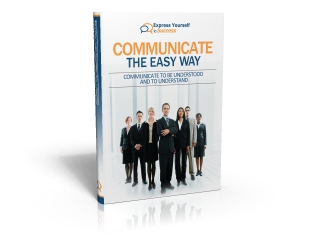 Everyone can be a great communicator and this eGuide offers many tips and techniques that describe just how to do it. At only $17, Communicate the Easy Way can help you discover how to say what you want.
In addition to Communicate the Easy Way, you will receive our free twice-weekly eNewsletter, One Minute to Express which is full of valuable tips, techniques and suggestions on improving verbal communication.
As well, you'll receive a copy of our eBook, Be LIKED, RESPECTED and VALUED absolutely free just by purchasing Communicate the Easy Way.
Click on the Continue button below to get your copy and start being an effective communicator today!