Want make small talk and conversation easily and without being stressed or nervous?
Most of us struggle at some point trying to think of something to say or talk about.
What's important to understand, however, is that it's not our fault.
It's not easy making small talk and sometimes, it's really hard.
Wouldn't it be great to get a bit of help figuring out what we can say in social or work situations instead of enduring those uncomfortable silences that we all know only too well?
Introducing the Express Yourself to Success eGuide to Making Small Talk Naturally.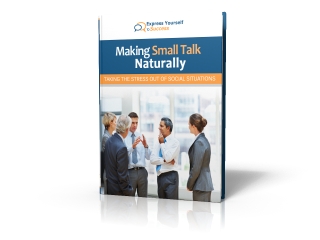 This easy-to-read eGuide takes you through three must-have techniques that create small talk and turn it into a conversation. It'll show you the best ways to start a conversation and the ways you can practice becoming comfortable making small talk.
The exciting thing about being able to make conversation is that you'll probably find that you're noticed more at work, you know more people, are more social and are more at ease in situations where you hardly know anyone.
What will this eGuide teach you?
This guide will tell you
how to start conversations and keep them going
what you should talk about and the best way to say it
the best questions to ask
what are some of the conversation personality types
which questions kill the conversation and which build it
what to do when someone shuts down the conversation
what not to talk about!
There's a lot of good information in this eGuide that will help you become a fluent conversationalist. Just follow the techniques and recommendations and you'll be on your way to having conversations with anyone, anytime.
Take a look at the first few pages of Making Small Talk Naturally by clicking here.
Check out the benefits of making small talk and conversation
make new connections at work to advance your career
feel comfortable in social situations where you don't know anyone
engage with others at networking events
reduce anxiety and worry about "what to say next"
know what to say that puts others at ease in stressful or uncomfortable situations
avoid those painful silences when the conversation dwindles
contribute to conversations and be part of the group
avoid the stress of wondering what you'll talk about
Now you're talking! ...sorry, I couldn't resist ;-)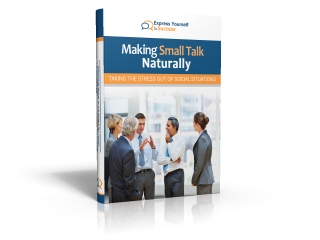 This eGuide is only $17 and it's worth it to be able to make new friends, get along better with your colleagues and staff and have a lot more fun being around, well, everyone! And the great thing is that you'll be able to start making small talk and conversations right away!
In addition to Making Small Talk Naturally, you will receive our free twice-weekly eNewsletter, One Minute to Express which is full of valuable tips, techniques and suggestions on improving verbal communication.
As well, you'll receive a copy of our eBook, Be Liked, Respected and Valued absolutely free just by purchasing Making Small Talk Naturally.
Click on the continue button below to get your copy and start making conversations today!

Why wait any longer to start a conversation? Get your eGuide and get talking!