How would you like to give great presentations that make you look like an expert?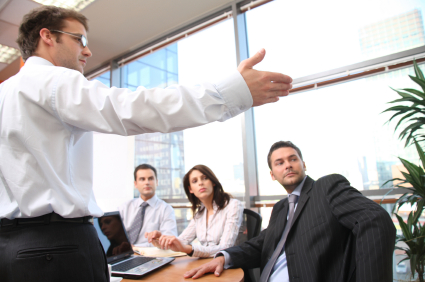 Giving great presentations can be difficult. You want to look your best and sound your best. More importantly, however, you want to look and sound like an expert on the topic your presenting. That's what will make you stand out from your colleagues and peers as the go-to person in your area of expertise.
Doing this, however, isn't easy. It takes training to become a good presenter.
So how can you do this?
First, we need to understand that is that it's not our fault if we're lacking in presentation skills.
Think about it. Up to this point, how were we taught to give presentations? For most of us, the answer is "Not at all." Besides spending an hour learning presentation software, that's about all the teaching we had.
What's unfortunate with that approach is that the software isn't the presentation nor does it "make" the presentation.
What we need to understand is that we are the presentation, not our slides.
Present Yourself
Wouldn't it be great to get some guidance on giving great presentations? Wouldn't you like some useful tips and techniques that will make you look and sound as good as you are?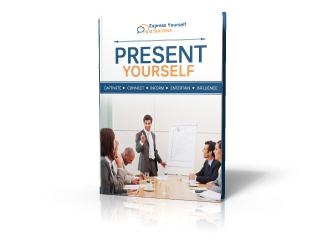 Introducing the Express Yourself to Success eGuide to
Present Yourself: Guide to Giving Great Presentations.
This easy-to-read eGuide takes you through the steps of creating a memorable and effective presentation.
What will this eGuide teach you?
This guide will show you how to
put together your presentation to make it interesting and persuasive
organize your thoughts and speaking points
avoid common mistakes that contribute to boring presentations
understand your audience so you speak in a way that they'll hear your message
keep your audience's attention throughout the presentation
construct strong presentation openings and closings
review and critique your presentation
rehearse your presentation so you look polished and professional
create memorable and engaging presentations
You'll have access to some productive techniques and tools that will help you become a more effective presenter.
Not only that, but Present Yourself: Guide to Giving Great Presentations includes worksheets and useful checklists that are designed to focus your presentation so you don't stray from your objective.
Take a look at the first few pages of the Present Yourself: Guide to Giving Great Presentations by clicking here.
Check out the benefits of giving great presentations
be seen as the expert and go-to person in your topic area
persuade others to support your position, project or cause
communicate in ways that help others to understand your topic
look and sound good in front of your bosses and colleagues
make a positive impression on professors, recruiters and potential employers
look confident and knowledgeable to everyone in the room
It's time to Present Yourself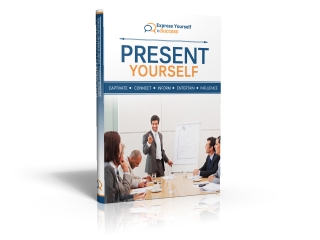 Being a good presenter is a career skill that connects you and your message to your audience. It demonstrates that you're the expert in your presentation topic and the go-to person on matters relating to it. At only $17, this eGuide is a must-have in anyone's professional skills toolkit.
In addition to Present Yourself: Guide to Giving Great Presentations, you will receive our free twice-weekly eNewsletter, One Minute to Express which is full of valuable tips, techniques and suggestions on improving verbal communication.
As well, you'll receive a copy of our eBook, Be Liked, Respected and Valued absolutely free just by purchasing Present Yourself: Guide to Giving Great Presentations.
Just click on the link below and Present Yourself today!