Teams at Work:
How to Lead Your Team to Success

Leading a team isn't easy.
Team leaders have to be flexible, attentive and able to tailor their leadership abilities to best match their team's needs so everyone is successful.
You're a team leader: How are you going to lead your team?
It could be a lot easier and you could be a lot more successful if you read through the Express Yourself to Success eGuide, Teams at Work.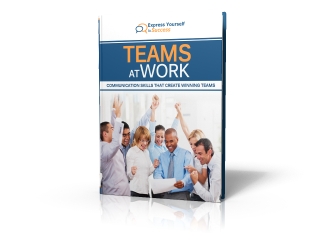 Here's what you'll find inside:
1. Tips on How to Lead a Team
Tips, techniques and tools to help you lead your team. Ideas and suggestions targeted at bringing out the best in your team and you!
2. Team Planning
Every team needs a plan so all members know how they will achieve their goals and what is expected of them. Learn how to set up a plan-of-action to achieve goals together.
3. Take Care of Team Problems Before They Get Out of Control
This eGuide will help you establish an agreement that outlines how the team will work together. This is a great way to avoid problems and conflicts before they take over the team.
4. Step-by-Step Worksheets
Teams at Work has several worksheets that will take you step-by-step to create a successful teamwork environment.
5. Get Team Buy-In on Decisions
When your team buys-in to the decisions being made, you're several steps closer to ensuring quality work and results. You need their support and cooperation and getting their buy-in is easier than forcing them to do something they don't want to.
6. Team Decision Making
Some decisions should be made by the team. Find out which ones and how to set up your team to make decisions together.
7. More Resources to Round Off Your Team Leadership Skills
The exciting thing about being an effective team leader is that you'll be able to achieve results easier, quicker and without a lot of conflict and difficulty.
Everyone can be a strong team leader and this eGuide offers many tips and techniques that describe just how to do it. At only $17, Teams at Work can help you lead more effectively and confidently.
In addition to Teams at Work, you will receive our free twice-weekly eNewsletter, One Minute to Express which is full of valuable tips, techniques and suggestions on improving verbal communication.
As well, you'll receive a copy of our eBook, Be LIKED, RESPECTED and VALUED absolutely free just by purchasing Teams at Work.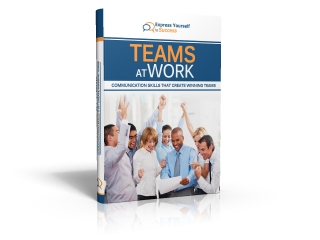 Good Teams Have Good Leaders
Behind every good team is a good team leader. Team leadership is a learned skill and with some time and effort, you can increase your skill level and become a great team leader. The choice is yours.
Click on the CONTINUE button below to get started with Teams at Work and improving your team leadership skills.

Copyright 2010 ExpressYourselfToSuccess.com