Home » Product Review Policy
Product Review Policy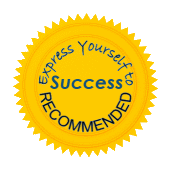 A service that I provide as part of Express Yourself to Success are reviews and recommendations on products and services that I like and that relate to the subject of this site.
There are eight points that I would like you, the visitors to my site, to know:
1. Anything that I review I have purchased (some through my Clickbank account) and reviewed it on my personal time.
2. I am not paid by anyone to review a product.
3. I am not under the influence of anyone when reviewing / to review a product.
4. I do not accept free products for review because there's an unstated obligation to provide a positive review whether the product is deserving of it or not.
5. I do accept suggestions for products to review. Just send an email to me at eys at expressyourselftosuccess dot com.
(where "at" = @ and "dot" = .)
6. If I do not like a particular product, I will not write a review stating such. I simply will not review it.
7. You'll see the above "Express Yourself to Success Recommended" gold seal throughout this site. This means that I personally have purchased the item (per point 1 above), have gone through it, reviewed it and believe it to be a quality product so I am recommending it.
8. Finally, for greater clarity, what I like and review I'm an affiliate of. This means that for products that have an affiliate program associated with it and if I like the product, I sign up to sell the product on my site and I receive a commission on each sale.
Please go to Product Advertisements Disclosure if you'd like more information on the products and services advertised on Express Yourself to Success.
I hope this clarifies any questions you may have on my approach to reviewing and recommending products and services.
~ Laurie