Home » Effective Communication Skills, Improving Communication at Work
Effective Communication in the Workplace: Support and Persuade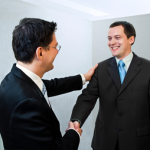 by Laurie Wilhelm
Whether at work or at home, we all encounter times when we need to persuade someone for something. We could be looking to our boss to support our proposal, to our colleagues to help out on a project, to our team to approach an assignment a particular way or to our spouse to agree with our choice of holiday location. Persuading is one of many key skills and good communication and strong interpersonal relationships are found at its center.
Whenever we're looking to persuade someone, the interpersonal relationship we've already established with them can determine how easy or difficult it will be for us to convince them to agree. This doesn't mean that if our relationship is good that we don't have to prepare and do our homework in order to effectively persuade. It does mean, however, that if our relationship is solid we already have a good rapport and an established sense of trust. Once we have that, it's more likely that the other person will hear us out and consider our request fairly.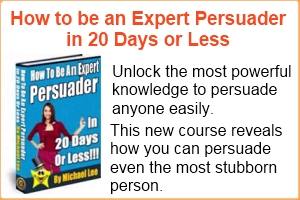 Think of someone you don't trust and are not confident that he has more than his best interest in mind. One day, he comes into your office and tries to persuade you to support his proposal to senior management. While his idea may be good, he has to work harder to get you to support it because you have to first trust that he's not trying to manipulate you or that he doesn't have any hidden agenda. If you trusted him from the moment he walked in and believed that he's acting in the best interest of all, you'd probably be persuaded to support his good idea more quickly and easily.
What would he have needed to do in the weeks and months prior to seeking your support that would have made you more receptive to him?
Are you behaving in such a way that builds trust and encourages others to pay attention to you when you're trying to get their support? What are you doing to establish good interpersonal relationships?
Even doing simple and seemingly unimportant yet positive actions contribute to better relationships. Improving communication skills between yourself and others can create amicable interactions. Kind gestures or the occasional favour will put you in someone's "good books." People often feel some indebtedness after having received a good turn and are more likely to reciprocate – even if it is just to listen to your request with an open mind and without critical judgements. That's already a great start when trying to persuade someone.
Making sure your relationships with others are strong and positive before you need their support can go a long way in the persuasion process.