Home » Effective Communication Skills, Persuade and Influence, Preparing and Planning to Negotiate
Five Tips for Creating C-Level Selling Confidence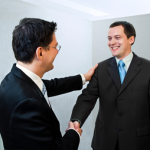 Persuading and influencing are skills that any manager or leader needs. Preparing for these opportunities is essential and cannot be understated.
1. Keep learning your trade.
The three areas of continuing education are selling skills, people skills and your product/service skills. As you learn more about any one of the three, you will become more assured of yourself.
2. Prepare for the encounter.
Get coaching from someone about the person you will be meeting. To avoid biases, I call the person directly and ask him/her the expectation they have for the meeting saying, "So that I don't bore you with a lot of grizzly details you don't want to hear, what would you like me to be prepared to talk with you about?" It will amaze you how this warms-up the other person.
3. Approach the meeting with a quest to learn.
It will take off all the performance pressure. All you have to do is prepare questions. If s/he already told you in the pre-call, confirm what s/he told you to be sure. Then dig into the details. Once s/he tells you the tune s/he wants to hear, you can sing it with passion. Why worry yourself about what to say when if you ask and listen, they will tell you what they want to hear?
4. Prepare yourself.
People with the "power" to say yes/no are intimidating. This is fear. Fear means you are thinking negatively about the upcoming event. Since you don't know the future, project positively. That becomes excitement. What you think the other person will think of you comes through in your walk, your posture, your language, your tone, etc. So be thinking great results and it will pump-up both of you.
5. Advise yourself as you would your child or a close friend about being confident.
If your child told you s/he was nervous about an upcoming interview, what advice would you give him or her? Well, you are that child and you have the answers to your own power. You just have to ask yourself, "What can I do?" Then listen.
Bonus Tip: FREE E-Book "Getting Past Gatekeepers and Handling Blockers." Just click this C-Level Relationship Selling Link http://sammanfer.com/GatekeeperEbook.htm. Sam Manfer makes it easy for any sales person to be effective and feel comfortable connecting with and relationship selling C-Level leaders.
About the Author: Sam Manfer is an expert sales strategist, entertaining key note speaker and author of TAKE ME TO YOUR LEADER$, The Complete Guide to C-Level Selling – getting to and influencing top level decision-makers. Sam makes it easy for any sales person to generate quality leads, and become a 70% closer. Sign-Up for Sam's FREE E-Books, Articles and other Advanced Sales Training Tips at http://www.sammanfer.com
Article Source: ArticlesBase.com – Five Tips for Creating C-Level Selling Confidence