Home » FREE eBOOK:
Effective Interpersonal Skills – Be Liked, Respected, Valued
FREE eBOOK:
Effective Interpersonal Skills – Be Liked, Respected, Valued
Discover What You Need to Succeed
Stop being an invisible spectator – transform yourself into a social success!
Are you feeling invisible at work while others get noticed?
Do other people get more attention than you?
Do you get stressed when you enter a room full of people?
Are you uncomfortable being with people you don't really know?
Do you get nervous and don't know what to say when people ask you about yourself?
Do the people around you have more impact on others than you do?
Do you dread social situations because you feel awkward and left out?
Are you afraid of saying the wrong thing and embarrassing yourself?
Are you unsure of what to do at social events?
Social situations can be intimidating. For someone who doesn't know how to act or what to say when you're with other people, these occasions can be so stressful that you avoid being a part of them. Unfortunately, you may find yourself faced with such situations every day at work where you can't avoid them. As a result, you feel unnoticed and unappreciated by your boss and colleagues
The thing is, you want to be involved. You want to be noticed and appreciated at work. You want to meet other people. You want to have more friends and better relationships. You want to go out and be around others.
You want all these things, but you don't know how to get them.
Don't worry. The Express Yourself to Success FREE eBook, be LIKED, RESPECTED and VALUED, tells you how to master the interpersonal skills you need so you are no longer socially stressed and invisible.
Good social skills are key to being noticed and better liked by others. They help us feel comfortable around others and able to talk to anyone. Interpersonal skills are a collection of verbal and non-verbal skills that we use to interact and connect with everyone around us. They help us to know what to do and how to act in various social situations.
With good social skills, you'll feel comfortable around others, you'll know what to say and how to act. You'll make friends more easily, get along better with people at work, and have more satisfying and fulfilling relationships with others – and your social life will improve!
If You Struggle With…
anxiety when entering a room full of people you don't know
embarrassment from not knowing how to answer questions about yourself
being at a loss for words when you're around other people
making a good first (or second, or third…) impression
dread at the thought of company events
feeling inferior because you're not "part of the group"
You Can Become a Social Sensation
You don't have to suffer because of second-rate (or third-rate or fourth-rate) social skills.
There is a solution.
You can learn how to be with other people and be comfortable with them. You can be part of the group and feel involved. You can have people like you and want to be with you.
It is possible to be at ease in any social situation. You can do it.
Just Imagine Yourself…
having people like you because you're so easy to talk to
making friends easily
knowing how to act in social situations
walking into a room with poise and confidence
having the executives in your company recognize and speak with you
participating in group discussions
experiencing daily, positive interactions with your colleagues, peers, and staff
being someone others want to be around
having the confidence to talk to anyone
feeling good about yourself in social settings
making a good first impression
creating instant rapport with others at professional networking events
having fun being with others
looking forward to company picnics, department birthday parties, and other social events
being noticed by senior management
going up to someone you don't know and starting a conversation
enjoying being around others
Yes, you can be socially skilled even if you never thought you could.
Your ability to interact with others all comes down to your social skills: are the good or poor?
There's no need to have poor social skills – that's a choice. Everyone can have strong social skills and enjoy good relationships in every area of their lives.
Make the decision right now to change your life. Get the skills to build your social confidence.
Learn about the necessity and the benefits of good social skills. Effective Interpersonal Skills contains pages and pages of useful information and ideas with steps to apply these ideas into your day-to-day life.
You'll have the confidence to become a social success!
The Social Solution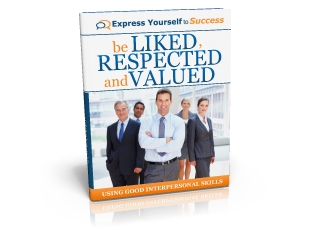 I've spent years working in public relations and publicity and have had more than my fair share of meeting people, going to social functions, and having to create and maintain relationships quickly.
I've gone from not knowing what to say to people to successfully initiating conversations – and keeping them going. I've gone from avoiding people to welcoming the interaction. I've gone from dreading social situations and trying to get out of them to looking forward to them and to meeting new people and making new friends.
I can easily go into any social situation feeling comfortable and confident because I know what to do, what to say, and how to act when I'm there. And I did it by learning and using good social skills.
After reviewing dozens of common social skills, I realized two very important things:
1. There is a collection of key skills that, when used on an ongoing basis, contribute to social achievement.
2. These fundamental skills must be used in combination with one another for the greatest positive impact on one's social success.
Instead of labouriously going through each and every social skill in existence, you have quick and easy access to the best and most useful social skills in one valuable – and free – eBook: Effective Interpersonal Skills – Be Liked, Respected and Valued.
This unique eBook targets the most influential actions you can do to maximize your social presence.
Highly Effective Interpersonal Skills
why each skill is important and relevant
how to integrate them into your day-to-day life and
has numerous effective workbook-style questions to help you sort out your approach.
You'll Learn Exactly How to…
talk easily to anyone
make friends easier
feel comfortable at social events
be the person others want to be around
build an instant rapport
introduce yourself
actively participate in group conversations
be comfortable going up to others
meet people easier
feel comfortable in social situations
have better relationships
get along better with colleagues, peers, and staff
walk into a room and know what to do
have a likeable personality
have more friends
create an instant rapport
turn acquaintances into friends
You're About to Discover the Top Social Skills
that will Dramatically Increase Your Social Ability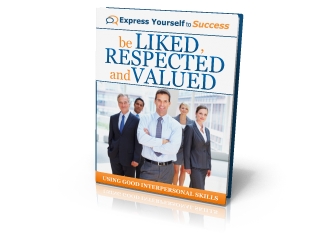 Effective Interpersonal Skills – Be Liked, Respected and Valued offers ideas, techniques and tips that will boost your confidence and help you participate in many different social scenarios. It focuses on the essential interpersonal skills that will have the greatest impact on your social success and
provides a step-by-step process for most skills for easy implementation into everyday life
offers social skills tips on what to do and what not to do
allows readers to progress at their own pace and at their own level of comfort
encourages readers to practice their social skills in easy, non-intimidating ways
gives ideas on how to start using your social skills right away
offers practical suggestions for effective professional and personal social skills
highlights the most important social skills that are both easy and results orientated
be LIKED, RESPECTED and VALUED leads you through the most rewarding social skills that provide the best results: better interactions with colleagues, peers and staff, enhanced friendships, improved relationships, and more friends!
Wouldn't it be great to…
feel comfortable in social situations?
make friends easily?
have good relationships with your coworkers?
be well-liked by many different people?
know what to say and how to act in any social situation?
feel good about being around other people?
be recognized as someone who can get along with anyone?
be part of the group?
enjoy yourself at parties, events, and other social gatherings?
be able to talk to anyone, anywhere?
Bust Out of Your Social Trap
Don't spend another minute feeling the anxiety of not knowing what to say and how to act.
Take control.
Stop struggling and start thriving.
You're only minutes away from
being a social success.
You'll be going out more, having more fun, enjoying your work relationships, and attracting more people to you!
In this essential eBook, you'll find ways to help you enjoy your social life more than before!
What are you waiting for?
Do it now and claim your FREE copy of be LIKED, RESPECTED and VALUED.
PS. Don't wait another minute. Start today to be comfortable and talk with anyone, anywhere, anytime! Subscribe today and get your free eNewsletter AND free eBook!
---
---