Home » How to Make Conversation and Small Talk
How to Make Conversation and Small Talk
How to Make Conversation
Knowing how to make small talk and keep conversations going is an interpersonal skill that will serve you well. While most people want to avoid making small talk because on the surface, it seems boring. When you know how to make conversation and small talk you'll find out that it's not boring at all but a way to get to know others quickly and easily. The products listed below will enable you to harness opportunities that lead to new or stronger relationships just by knowing how to make conversation.
How to Talk to Anyone, Anytime, Anywhere

If you work with people (and who doesn't?), then communicating effectively with them is the most important skill you possess. From auto mechanics to astrophysicists, it's your ability to communicate your thoughts and interact with others that garners respect, admiration, and more business. No matter how professionally competent you may be, without the ability to express yourself confidently, your other skills may go unnoticed.
You can't help but benefit from Larry King's years of experience and sage advice. Even if you think you were born without the "gift of gab," you can begin to improve your speaking abilities immediately. King offers myriad techniques, skills, and ice breakers that anyone can learn to use with confidence.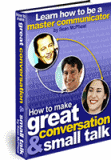 How to Make Great Conversation and Small Talk
Discover the amazing conversation and confidence-building techniques, tips and strategies you can use to talk with anyone so you will never have to endure the uncomfortable silence again.
Learn the top five topics of conversation that people love talking about, how to communicate to different types of people, witty one-liners and secrets to building effortless rapport.