Home » Reading Body Language
Reading Body Language
Reading Body Language and Body Gestures
People won't always tell you what they're thinking but their body will. Reading body language and understanding body gestures makes you a more effective communciator and persuader. When you know what others are thinking without their telling you or you're reinforcing your message with positive body gestures you can create a more successful presentation, negotiation, or conflict resolution.
Use body language and body gestures reinforce communciation and trust. Learn how through one on the elearning courses below.
The Power of Body Language

Approximately 80% of communication is expressed nonverbally. Learn to 'speed-read' people's nonverbal cues to decode sentiments and behaviors, avoid hidden pitfalls, look for revealing behaviors and much more. When you understand the non-verbal secrets revealed by body language, you're better able to make your body language correspond with your verbal messages.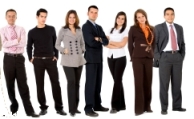 Secrets of Master Communicators
Have you ever wanted to know how some of the world's best communicators manage to be so persuasive? Have you wondered why some people are able to communicate so brilliantly without saying anything?
Robert Phipps is one of the UK's leading body language experts. Get access to his 10-video easy access training that can help you build better relationships at work and at home, perform better at interviews, learn body language presentations techniques, read the body language of others and so much more.
target="resource window">

The Silent Language of Leaders
This book is a must-have in your communications toolkit. Don't let your verbal skills suffer because of poor body language. Reinforce your message with appropriate body language that matches your message.