Home » Conflict Resolution and Negotiation, Effective Communication Skills, Interpersonal Skills
Ten Articles on Workplace Gossip: Negative Effects of Gossip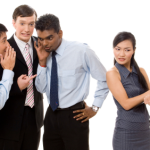 The definition of gossip is the spread of personal affairs, rumours, half truths, and even lies about a person or organization. When we consider what are the effects of gossip, we see that they are negative, detrimental, and damaging for whomever was the subject of the gossip.
Listed below are ten articles on workplace gossip. They cover the types of gossip, the negative effects of gossip, workplace gossip, and what to do to reduce gossip in the workplace. Interestingly, there's one that discusses how negative gossip builds friendships.
USA Today: Research Shows Negative Gossip Can Build Friendships, Release Tension.
This is an academic paper on rumour and gossip research. It defines what is rumour, what is gossip and the difference between the two. Psychological Science Agenda published by the American Psychological Association: Rumour and Gossip Research.
Cracker Barrel EAP gives some good tips of what to say in an uncomfortable gossip situation Don't Listen to Gossip.
This article deals with the negative effects of gossip in the workplace Handling Gossip in the Workplace.
This is another academic paper, at bnet, that explores "four main propositions: that gossip is a phenomenon worthy of serious study/analysis; that gossip in organizations has been under-researched; that analysis of gossip reveals important aspects about the social organization of work; and that gossip is a social process that helps to protect and perpetuate organizations." News from Behind My Hand: Gossip in Organizations.
This is an article about workplace gossip previously posted on Express Yourself to Success Workplace Gossip: What to Do About It.
The New York Times published Office Gossip Strategies.
The HR Info Center stated that ignoring gossip in the workplace is the same as approval
The Negative Effects of Gossip in the Workplace.
Life 123 reviews the The Effects of Gossip in the Workplace.
Here are some more ideas on What to do About Gossip posted at Management-Issues.