Home » Effective Communication Skills
Why Smile?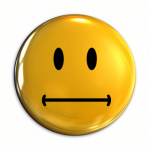 by Laurie Wilhelm
"I'm sick of being told to smile and make eye contact. That's what everyone says." Even as I type this, I can still see him rolling his eyes.
I hear comments like this about social skills from time to time. Every time, I agree – we are told this a lot.
And there's a very simply explanation why this is.
Smiling and eye contact are physical ways to make yourself look approachable and make others more receptive when you approach them. They've become easy recommendations for good social skills.
After all, who wants to approach you if you look like a grump?
How will someone react to you if you approach them looking all serious or even just indifferent?
Neither is attractive. Said another way, you won't attract someone to you if you don't look approachable.
Testing People Skills
I spent the past few days doing a smile test to find out how much of a difference smiling and eye contact had, if any, on my interactions with others.
Over a short three day period, every time I went out, say to the grocery store, subway, park, or walking down the local shopping streets, I didn't smile at anyone and made as little eye contact as was necessary.
The result?
No one was particularly friendly. They went about their routines and seemed to me to be rather hum-drum. A few people tried being friendly, like the woman in the bakery, but backed off when her effort wasn't reciprocated. It's as if some people wanted to be friendly, but needed to feed off of another person's positive reaction. Interesting.
Following this testing period, I began the flip side of the test and smiled at everyone while making eye contact. Every time I went out, I paid attention to whoever I walked by or dealt with in a store. I looked and smiled at people in the subway and acknowledged people in the park. Occasionally, I added a 'hi', but only when it felt like I should say something as I smiled. Maybe that was cheating on the smile side, but it's not like I was aiming to do a lofty scientific social skills test and besides, these results won't be written up in a fancy interpersonal relationship journal. I figure my slight deviation is OK.
How did others react?
Most people smiled back. Everyone seemed friendlier when I was friendly. Everyone seemed more approachable when I was approachable. But it wasn't just the return smile I received. Surprisingly, I received more than I gave: the guy in the subway kiosk complimented me saying that I had a "great smile," the sales clerk became extra helpful, and the mail delivery woman wished me a "good one."
And something else happened when I was smiling that didn't when I wasn't smiling: I felt happier. I was in a better mood throughout the day when I was smiling. My attitude and outlook were positively affected when I smiled and paid attention to those around me.
Yeah, sure, there were some people who were just plain cranky in both tests – like one of the other guys who sits in the subway kiosk watching people go by as they plunk their tokens into the turnstile and the lady waiting for her husband to finish using the ATM. I'm sure they had their reasons for being unfriendly and that's OK – it wasn't personal.
While I didn't need convincing that smiling and eye contact are good social skills – I've benefited from them for years – it did re-enforce to me to keep smiling and eye contact on my top-five-best-social-skills-of-all-time list because of how easily they make us appear approachable and for the impressive impact they have on most everyone. Including myself.
photo©iStockphoto.com/DSGpro